New Holland
Campey Turf Care Systems supply a range of New Holland mowers. Renowned for their superb cut, low noise and vibration and used around the world by maintaining prestigious lawns and sports turf.
Listed below is a small selection of the New Holland range, please get in touch to find out more about the full range available from Campey, simply call +44 (0)1260 224568 or email us today.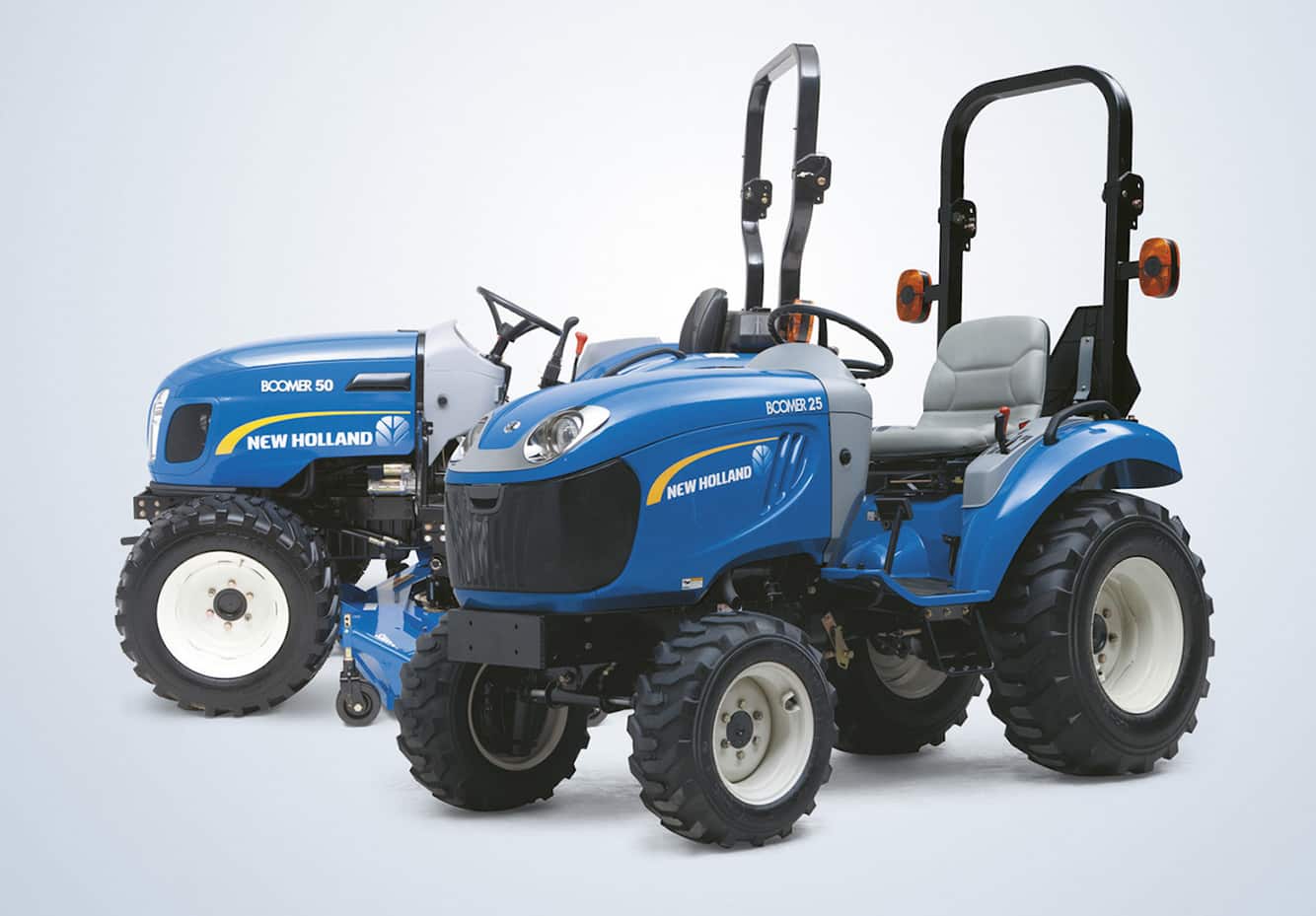 Models Available: Boomer20 / Boomer25 / Boomer30 / Boomer 35 / Boomer 40 / Boomer 50
The new Boomer™ compact tractors are the ultimate power tools for small horticulture and agriculture applications, homeowners, rural lifestyles, landscapers, golf courses, municipalities and hobby farmers. Responsive, efficient and comfortable, they're built to make your jobs easier.
Available in six models, with power output from 28 to 47hp (CV), Boomer tractors give you big-tractor reliability wrapped in a compact, manoeuvrable package. They're loaded with features that keep you comfortable while saving you time and money. Pound for pound, you'll find that Boomer tractors are the ultimate value.
The power you need
Quiet, fuel-efficient three and four-cylinder engines give you the power you need for mowing, digging, clearing snow, cultivating, and much, much more. You get fast implement response and steering thanks to the high-capacity, dual-pump hydraulic system. 
Operating ease
The word "easy" defines Boomer tractors. Controls come easily to hand, the seat and steering wheel adjust to match every operator, and the large, uncluttered operating platform gives you plenty of legroom to stretch out. Controls are color-coded and clearly marked so you are confident of your every move. 
Simple service
Boomer tractors are easy to maintain. Checkpoints are easy to reach and the flip-up bonnet gives you complete access to the engine, battery, radiator and air filters.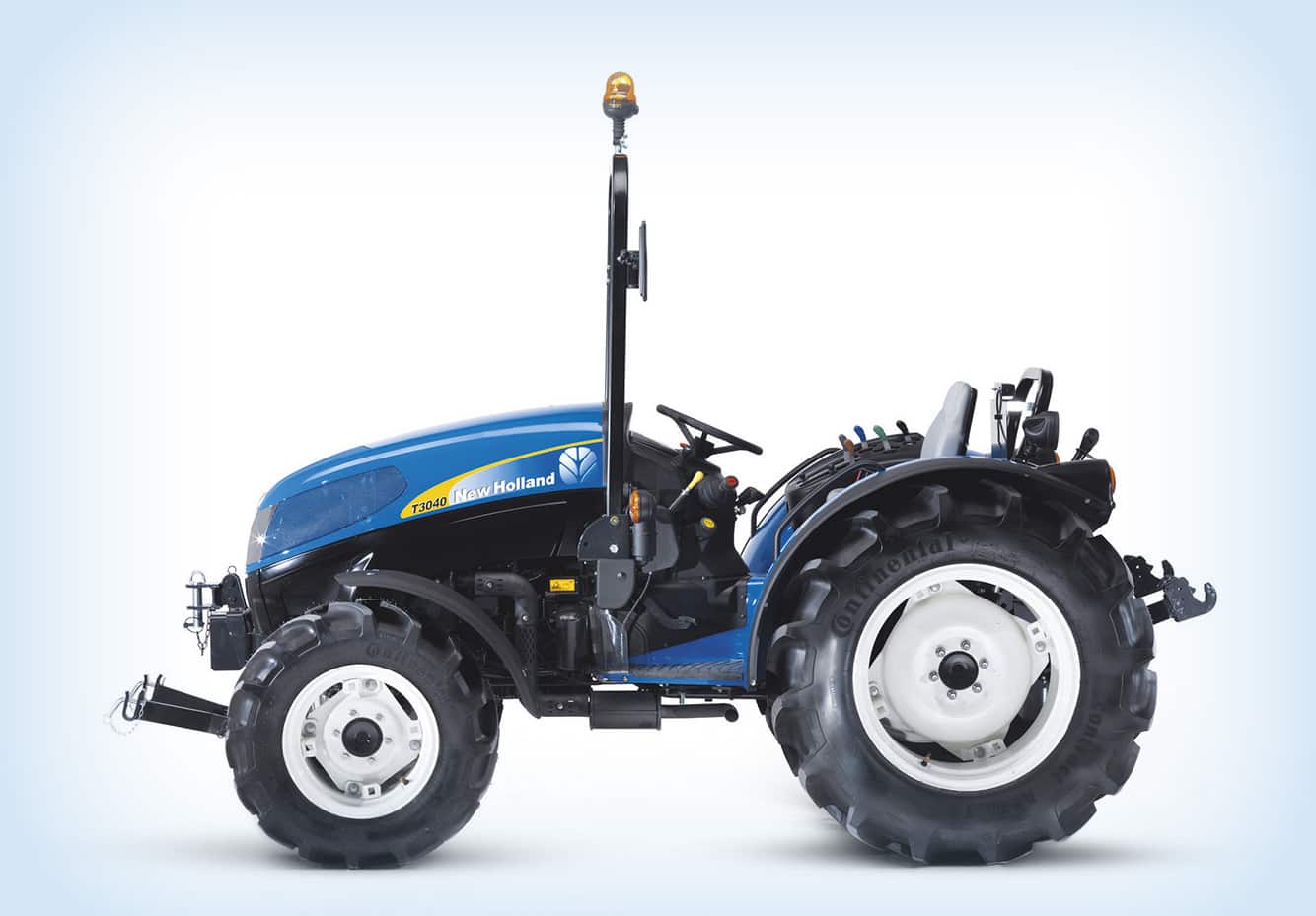 Models Available: BOOMER 3040, BOOMER 3045 and BOOMER 3050
The New Holland Boomer 3000 compact tractor series are packed with new features. Whatever your application, a Boomer tractor can be specified to match you exact requirements.
Three models ranging from 41 to 51hp

Clean running and frugal engines

EasyDrive™ CVT transmission

Standard 4WD or unique supersteer for leading manoeuvrability

Sensitrak™ 4WD automatic traction management
Stylish single piece engine hood

Class leading hydraulic power

Powerful rear linkage and PTO

Purpose designed rotary mower decks

Class leading comfort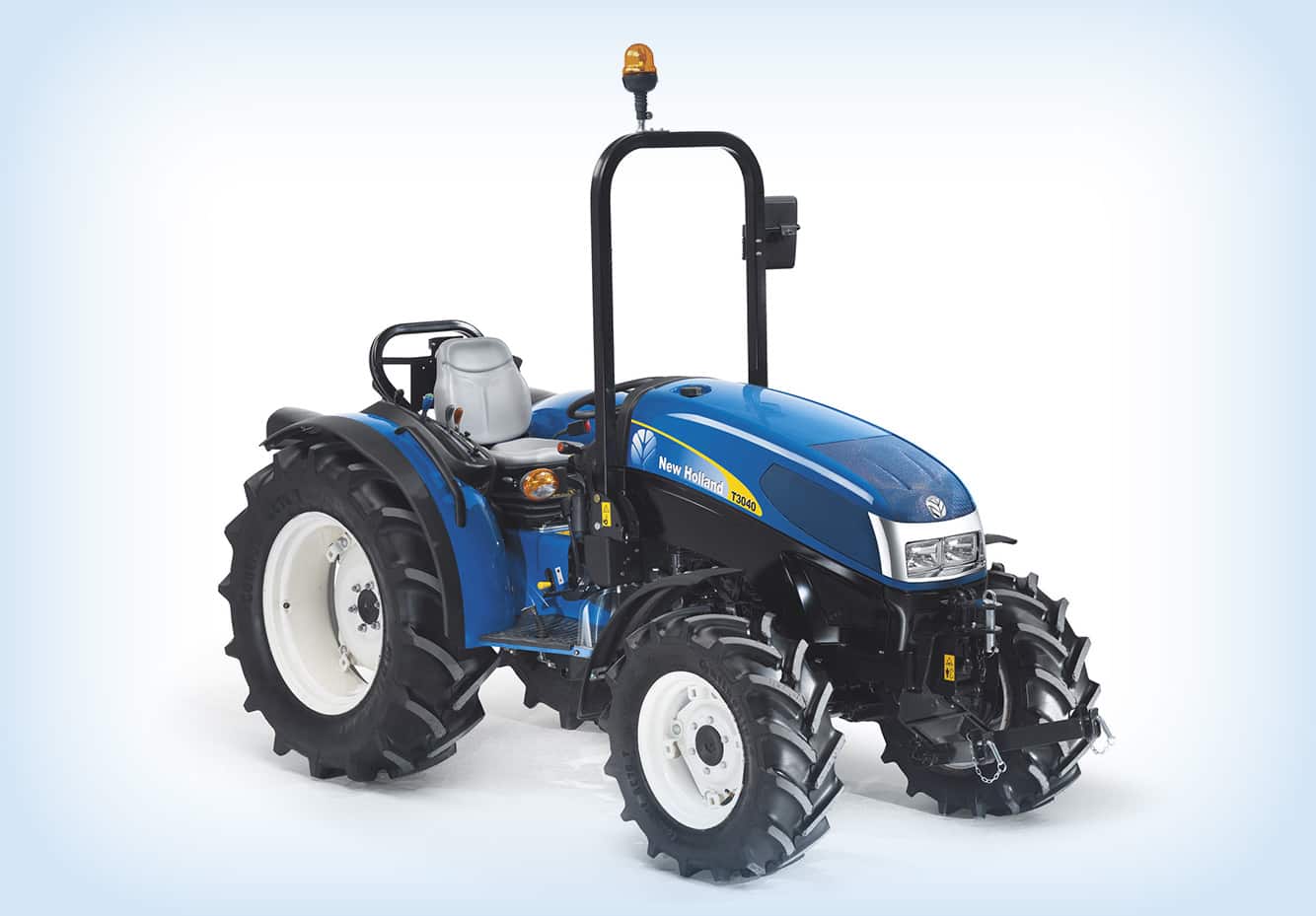 Agricultural, horticultural, groundcare tractors
Models Available: T3020, T3030 and T3040
Designed to meet the needs of agricultural, horticultural, groundcare and municipal user, the New Holland Series T3000 compact tractor range combines rugged build and ease of operation with modern ergonomics, advanced styling and excellent operator comfort.
Three T3000 models are available, the T3020, T3030 and T3040. All offer established New Holland performance features that include 4WD with an outstanding 55 degree turn angle, a two-speed 540/540 Economy PTO and a generous 1200kg rear linkage lift capacity. A 16×16 Synchro Shuttle™ transmission (with Creeper) is standard, offering operating speeds down to 250m/h.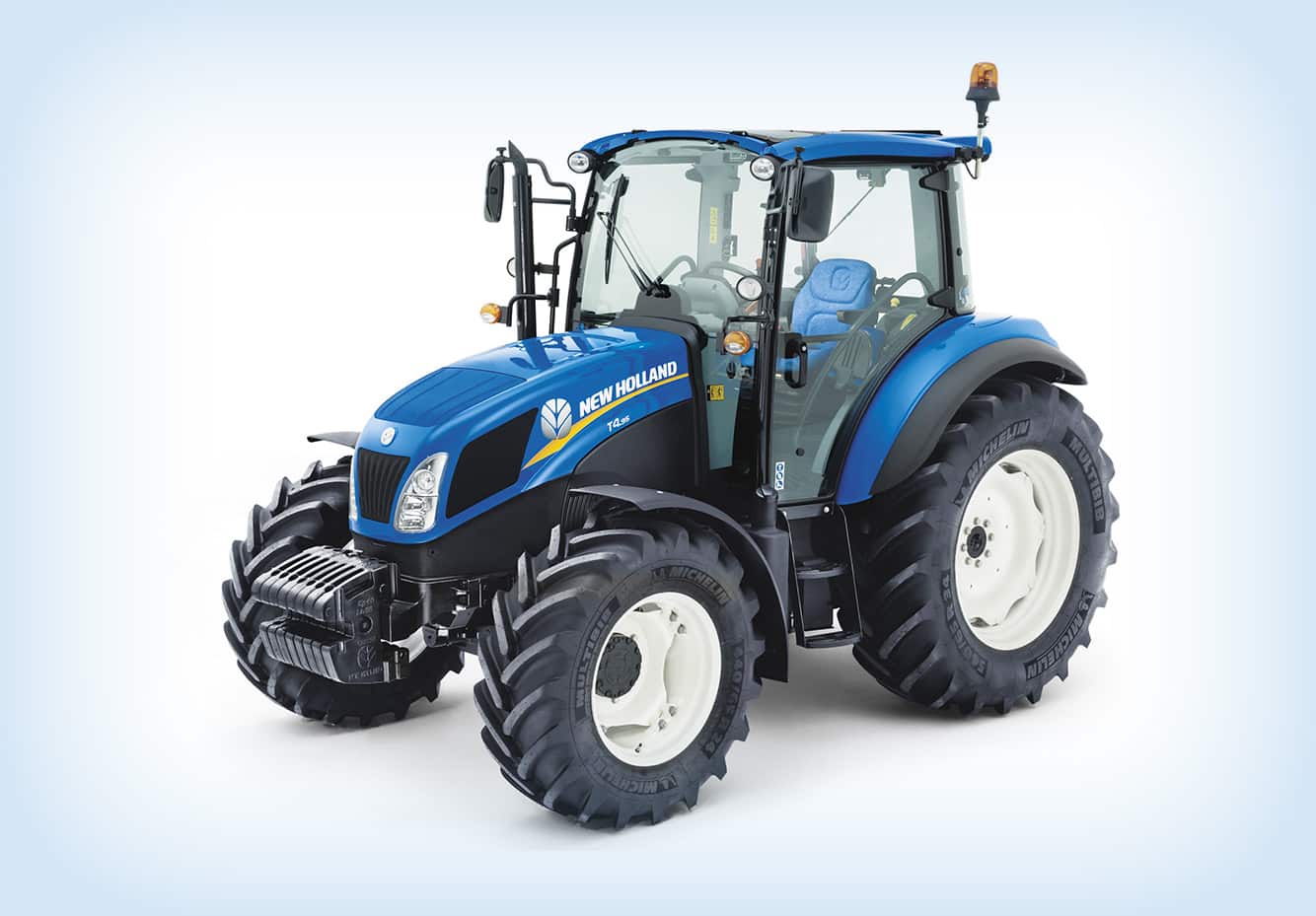 Taking comfort to a whole new level
Models Available: T4.55, T4.65 and T4.75
Rediscover pure farming pleasure with the all new T4 Powerstar range
The all-new three model T4 PowerStar™ range has been designed to take farming comfort to a whole new level. With 55 to 75hp (CV) on tap, even the most demanding users will be able to sit back and relax in this, a truly New Holland tractor. From distinctive styling to responsive performance, the new T4 PowerStar is the latest addition to the New Holland family.
Absolute driving pleasure
Long days will fly by in the new deluxe VisionView™ cab that has been designed around you to maximise your productivity. How? Conceived in virtual reality following extensive consultation with many customers, it offers ergonomic comfort to all operators, setting a new industry benchmark in this segment. The advanced air conditioning and a full sized instructor seat mean the T4 PowerStar takes operator comfort to a whole new level. Pleasure. Guaranteed.
Power and productivity
Are you looking for a tractor that offers you outstanding productivity in a compact package? Then the T4 PowerStar is the natural choice. Featuring an outstanding power-to-weight ratio of a mere 30.4kg/hp, this tractor offers exceptional fuel economy. The fully integrated front loader with quick cycle times makes loader applications even more efficient, especially when combined with the hydraulic PowerShuttle. Performance. Guaranteed.
Ease of ownership
New Holland knows that you want to spend more time in your tractor than looking after it; and the T4 PowerStar offers you the ultimate peace of mind. Long 500 hour service intervals, together with simple daily checks, courtesy of the single piece hood and ground-level service points, make keeping your tractor in tip top condition as easy as 1-2-3. Peace of mind. Guaranteed.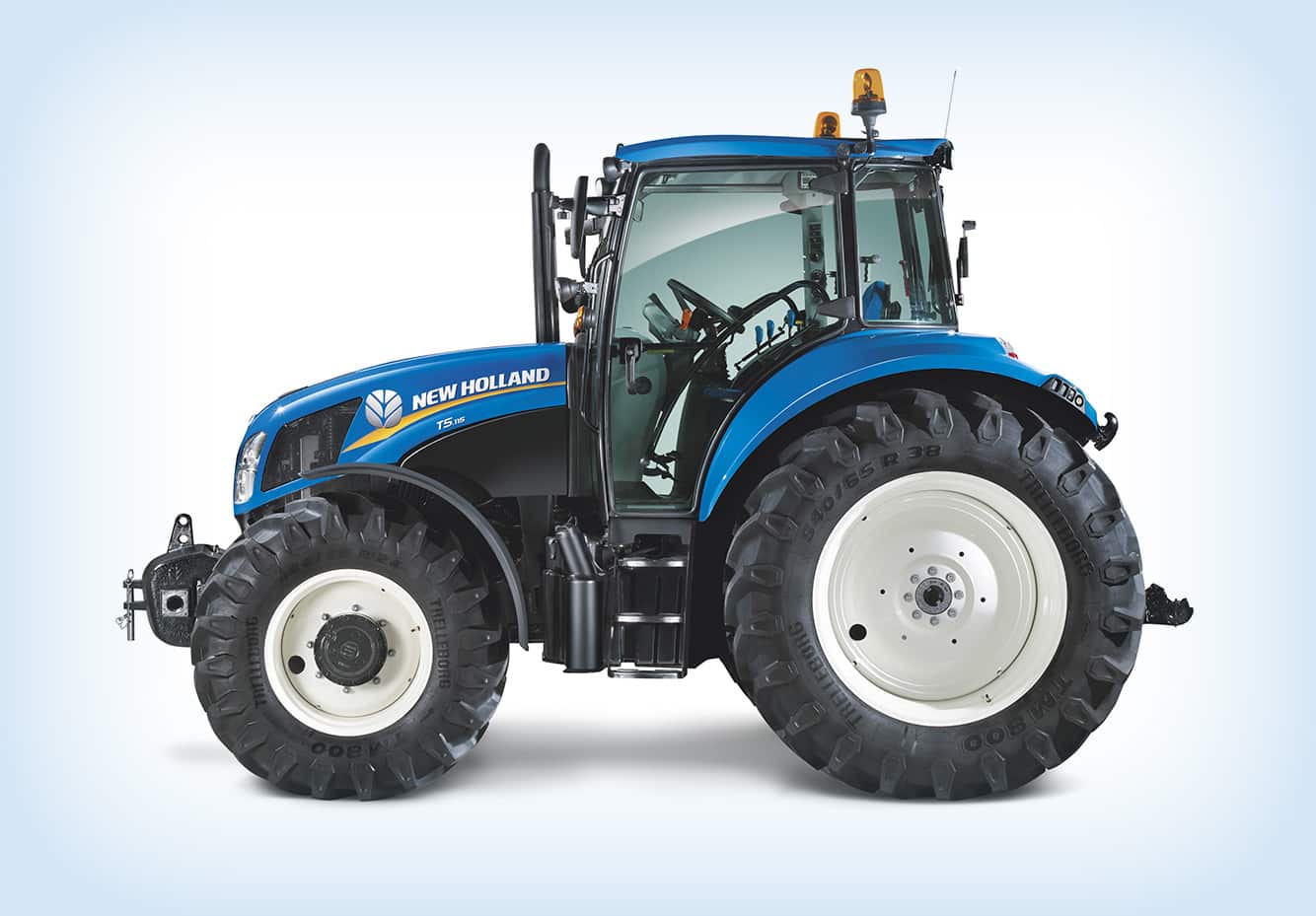 Perfectly at home in the field
Models Available: T5.95, T5.105 and T5.115
Maximum versatility
New Holland knows that the T5 will be used in a wide variety of applications, so it has been engineered by design to offer versatility as standard. Perfectly at home in the field, on the road, in the shed or in the yard, it can effortlessly turn its hand to transport, PTO, linkage or even municipal and groundcare applications. The Electro Command™ transmission enables you to easily and precisely adjust your speed to the task in hand. With a full range of PTO speeds, high visibility roof hatch as standard and front and rear linkage, you've found your perfect farming partner.
Power and productivity
Powered by Common Rail engines that fully comply with the stringent Tier 4A emission regulations, you benefit from a power-to-weight ratio of a mere 37.3kg/hp(CV) for outstanding performance and impressive fuel economy. The column-mounted hydraulic Powershuttle guarantees super-fast direction changes and up to an impressive 127L/min of hydraulic flow shaves seconds off loader cycle times. T5. Taking productivity to a whole new level.
Absolute driving pleasure
Welcome to business class farming. The deluxe VisionView™ cab has been designed around you in virtual reality and is the fruit of extensive customer consultation. The result: a new benchmark in tractor comfort. T5 Electro Command™ models deliver a silky smooth ride courtesy of efficient Comfort Ride™ cab suspension. The ergonomic Command Arc and the largest glazed area in the segment enhance productivity. The powerful air conditioning and a full sized instructor seat make the T5 the most comfortable place on the farm.
Ease of ownership
As farmers, you want to spend more time working and less time maintaining your tractor, so the T5 has been designed to be ready whenever you are. The super-long 600 hour service intervals, impressive fuel economy and simple daily checks, courtesy of the single piece hood and ground level service points, make keeping your tractor in A1 condition as easy as a-b-c.
Exactly what it says on the bonnet
The T5 range's performance is immediately obvious to all users. How? Quite simply it's on the bonnet. The first two digits 'T5' refer to the tractor's category and the following two or three, for example '115', refer to the maximum engine power, rounded to the nearest five. What does that mean to you? You can buy your T5 safe in the knowledge that its performance will perfectly match your requirements. Trust New Holland for ultimate productivity and peace of mind.